What's The Difference Between All The Milk Alternatives?
Posted on March 11th, 2020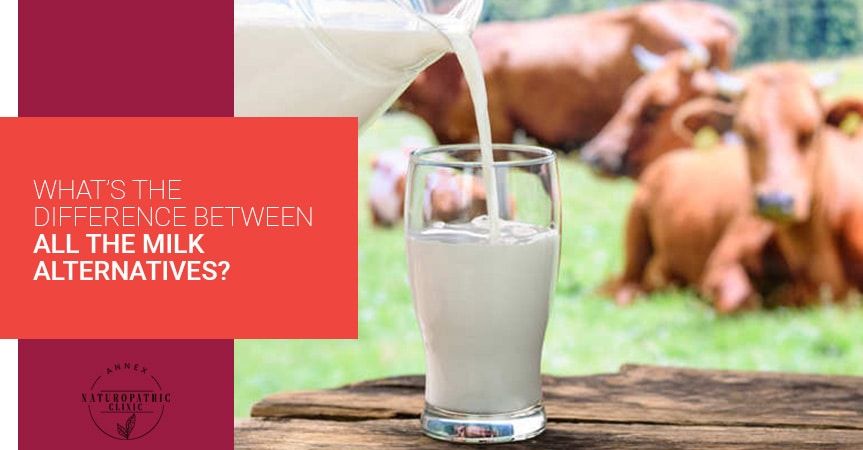 There are many different varieties of milk products, with base ingredients ranging from dairy to nuts to grains.
Milk wasn't ever mass-produced from this stuff in the past, so with so many options it can be difficult to know which milk alternative to choose.
There are lots of factors to consider when making your decision, including nutritional content and sustainability.
Some milk alternatives offer benefits for your gastrointestinal system, while some offer little nutrition but are generally well tolerated in those with food allergies.
If you're looking for better digestive health solutions, look no further — we're going to break down each milk alternative and help you decide which is best for you and your body.
1. Cow Milk
So this isn't a milk alternative, obviously – but it's still worth looking at.
With cow's milk, you have many different options including skim/fat-free, 1 percent, 2 percent, and homo milk.
There are also varieties of lactose free cow's milk, which has been processed to break down lactose sugars, since lactose intolerance is fairly common.
Advantages
Although whole milk is the highest in calories, it's ultimately a healthier choice than the low-fat alternatives.
Whole milk retains its natural components and is rich in calcium, proteins, and healthy fats.
Skim milk also offers these benefits, but the lack of fat hinders the absorption of these vitamins.
Typically, cow's milk is fortified with various vitamins and minerals such as vitamin D and vitamin A.
Another advantage of cow's milk is it is widely accessible, as it's an affordable choice and usually found in basically any grocery store across Canada.
Disadvantages
Despite the benefits of whole milk's healthy fats, it also contains saturated fats and is high in calories.
Plus, lactose is one of the most common food allergens.
Some individuals who are not allergic to dairy may experience a slight intolerance or sensitivity.
The ethics of dairy farming are also an issue for some, with vegan lifestyles becoming more and more popular.
Dairy farms also produce high amounts of greenhouse gas emissions and consume more land than milk alternatives.
If you enjoy consuming cow's milk but want to avoid the environmental deficit of factory farms, consider sourcing your dairy products from a local farm.
2. Almond Milk
Almond milk is one of the most popular nut milks, and it can usually be found in larger supermarkets.
It's made from ground almonds and filtered water, with sweetened and unsweetened varieties.
Advantages
If you're looking for a lower calorie option, almond milk may be a good choice for you.
Compared to whole milk's 150 calories per cup, unsweetened almond milk contains 30-60 calories depending on the brand.
Almond milk contains no saturated fats, which is good news for your cholesterol levels.
Like other nut milks, it's completely vegan and naturally without lactose.
Disadvantages
Despite the nutritional content of the nut itself, almond milk lacks calcium and protein.
It also may contain carrageenan, a common additive used to thicken and emulsify certain foods and beverages.
In some people, carrageenan is known to cause digestive issues and inflammation.
In fact, this 2019 study suggests that carrageenan might be the cause for allergic reactions to a number of different food products, including milk alternatives.
On another topic, when it comes to the environment, almond milk may not be the most conscientious option.
A report by the University of California San Francisco outlines the key issues with almond farming, which include how water-intense the crop is.
In fact, it takes more than a gallon of water to produce just a single almond – this is far more than any other milk alternative.
Bees are also a necessary part of almond cultivation, which puts stress on beekeepers and negatively affects bee populations.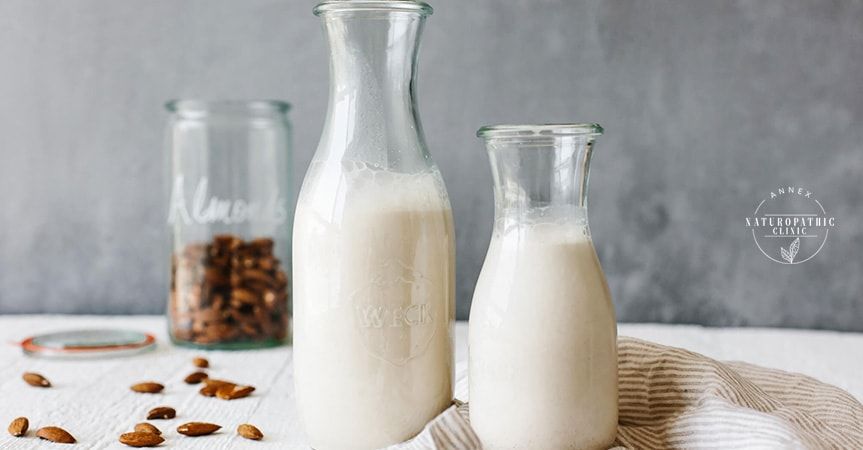 3. Soy Milk
One of the most widely available milk alternatives, soy milk is made from soybeans and water.
Keep reading to learn more about the pros and cons of this popular milk product.
Advantages
Soy milk is naturally low in saturated fat and contains no cholesterol.
Instead, it's a great source of protein and potassium.
Many varieties of soy milk are fortified with calcium or probiotics, which are beneficial for your overall health especially if you have high blood pressure.
If you're mindful of the environment, soy milk is regarded to be one of the more sustainable milk products – the crop grows just about anywhere, and doesn't take as much water.
Disadvantages
Soy is a relatively common allergen, so if you're allergic to this ingredient you should avoid soy-based milk alternatives.
It can be a problematic ingredient for some due to how it acts like a natural estrogen.
Although they may have a positive effect on menopause symptoms, soy-based foods may cause fertility issues and lower sperm counts.
People with thyroid conditions may want to avoid soy milk for this reason.
However, you'd most likely have to consume massive amounts of soy products for it to have an effect on your hormones.
If you're concerned about these potential effects, talk to your naturopathic doctor or other health practitioner for more information.
4. Rice Milk
Like other plant-based milks, rice milk is made from milled rice and water.
It's naturally thinner in consistency and relatively sweet.
Advantages
Milk, soy, and nuts are among the most common allergens in food, which is why rice milk is a great alternative for those wanting to avoid a reaction.
Rice milk is also naturally sweeter than other milks, which eliminates the need for sweetening agents.
Disadvantages
Rice milk is higher in carbohydrates than most other milk alternatives.
Unlike other milks, rice milk is rarely fortified with vitamins and minerals and contains little protein.
Like the grain from which it's made, rice milk contains notable levels of inorganic arsenic.
For this reason, it's a good idea to not rely solely on rice products, especially for children and pregnant people.
Like almonds, rice production also requires large amounts of water, which causes an environmental strain.
5. Hazelnut Milk
One of the less well-known milk alternatives, hazelnut milk is rising in popularity due to its nutrition and flavour.
Next time you're at the grocery store, consider keeping an eye out for this tasty and nutritious option.
Advantages
Like other nuts, hazelnut trees extract carbon from the atmosphere, thereby reducing greenhouse gas emissions.
In fact, hazelnut farming is considered to be carbon-negative – according to this 2015 report from the University of Guelph, hazelnut orchards can play an important role in fighting climate change.
However, unlike almonds, hazelnuts are pollinated by the wind instead of bees.
Hazelnuts are high in vitamin E, omega-3 fatty acids, and folic acid, which are all beneficial for your health.
Disadvantages
Hazelnuts are mostly harvested by hand, and worker exploitation can be common in this industry.
They are also relatively high in fat, which is both good and bad — healthy fats are great, while saturated fats may have adverse consequences for your heart.
6. Coconut Milk
This tropical milk is made from water and coconut cream, the latter of which is made from grated coconut flesh.
Despite the name, the coconut is not a nut — so this milk is safe to drink if you have a nut allergy.
There are different kinds of coconut milk that serve different purposes.
Cans of coconut milk are thicker and used for cooking, while coconut milk beverage is thinner and more diluted.
Advantages
Coconut milk is high in fats, specifically medium-chain triglycerides.
These fatty acids, also known as MCTs, offer potential health benefits including weight loss and the increase of energy levels.
Coconut milk is not naturally high in calcium, vitamin D, and vitamin A, but it can be fortified to be a more nutritious option.
Disadvantages
Although some fats are good for you, coconut milk is also high in saturated fats, which may not be the most heart-conscious choice.
Coconut milk is also not a good source of protein and often contains carrageenan.
The global demand of coconut milk contributes to this product being a less sustainable and ethical choice as well
Worker exploitation and climate destruction are important factors in the mass production of this milk alternative.
Because coconuts don't grow anywhere near Canada, they need to be shipped from far away, contributing to greenhouse emissions.
7. Oat Milk
Oat milk is an exciting new milk alternative that shows great potential for growth due to its forecasted lack of environmental consequences.
It's creamy and offers a neutral sweet flavour, even when unsweetened.
Advantages
Even with its rapidly rising popularity, experts doubt oat milk will have any substantial environmental impact.
Oats are grown in Canada and northern USA's cool climates, and are not associated with mass deforestation.
On top of that, because they're grown so close, it takes quite a bit less fossil fuel to ship it to your local grocer.
Disadvantages
During production, oats are usually sprayed down with pesticides.
From organic to conventionally grown oats, the active ingredient in these pesticides — glyphosate, a possible carcinogen — was found in at least one third of these products.
Some brands, however, advertise their products as certified glyphosate free – keep an eye out for them.
When it comes to nutrition, oat milk is often high in preservatives and additives.
Make sure you read the label when purchasing any milk alternative, including oat milk.
What's The Best Option For You?
Whether you're looking for a milk product that avoids an allergy, offers the most nutritional content, or takes less of a toll on the environment — there are many milk alternatives to choose from.
When making a decision that may impact your health, it's best to do so with consultation from a health practitioner.
For natural nutrition advice and more, contact us at Annex Naturopathic.
We would love to work with you to develop a natural health plan that works for you and your lifestyle.
If you want to determine which milk alternative is best for you, we can help.
Book an appointment at our Toronto naturopathic clinic today.
Find more ideas on health, wellness, naturopathy, and medicine at: Toronto naturopathic clinic
---