Naturopathic Solutions For Insomnia, Part 2: Improving Your Sleep Hygiene
Posted on December 3rd, 2019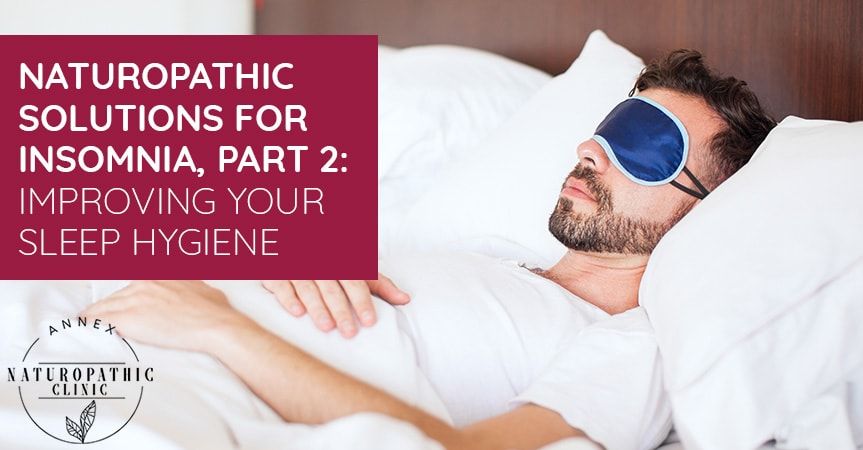 In our last article, we looked at some of the reasons why you might be having trouble sleeping.
It might be due to a medical condition, or perhaps your prescription medication.
If you're having trouble with sleep, today we'll look at some tips for improving your sleep hygiene and helping you get back to getting enough rest.
What Is Sleep Hygiene?
Most people associate the term "hygiene" with cleanliness - washing your hands, showering regularly, that sort of thing.
Sleep hygiene is practices and habits which can help maximize the length and quality of sleep.
Proper sleep hygiene can help overcome lack of sleep due to insomnia, shift work, or even jet lag.
Keep reading to learn more.
Improving Your Sleep Hygiene
There are a number of things you can do to improve the quality and length of your sleep.
Some have to do with the environment you sleep in, others are related to your habits.
Keep reading for our top tips for a good night's sleep.
1. Avoid Blue-Tinged Light
A 2013 study in the journal Applied Ergonomics showed exposure to blue light suppressed the levels of melatonin significantly.
Melatonin is a hormone which signals to the body that it is time to sleep, so reduced levels can be problematic when trying to fall asleep.
This is the reason some people take melatonin supplements before bed. More on that later in this article.
Anyway, to avoid this effect, switch off your phones, tablets, and television close to bedtime.
If you must use these devices, consider a blue light filter. There are several programs available that can help depending on what device you're using. One of the more popular ones is f.lux, which automatically decreases the blue light from your screens depending on the time of day.
2. Keep Your Bedroom Cool
Have you ever tried to get to sleep in the middle of the summer, in an un-air-conditioned room?
It's not so easy is it?
Studies have shown the ideal temperature for falling asleep is between 15 and 20 degrees Celsius (60 to 68 Fahrenheit).
It is thought that a cooler sleep environment mimics your body's natural drop in temperature at night.
3. Sleep In Complete Darkness
Light can be a cue to your body that it's time to wake up.
Think about how hard it is to get out of bed in the winter when it's still dark when your alarm goes off, versus in the summer when you can get out of bed as the sun is coming up.
Even a bit of light glowing from your phone or a digital alarm clock can disrupt your sleep.
If you have a lot of light pollution coming in through the window, consider investing in blackout curtains, or a sleep mask.
4. Avoid Caffeine Before Bed
This tip should not come as a surprise to anyone who needs coffee to help get them through their mornings.
But it's not just coffee which is the culprit when it comes to caffeine - tea, chocolate, pop, and some medications can contain this ingredient which will keep you awake.
Avoid consuming these things six hours before bedtime, to be safe.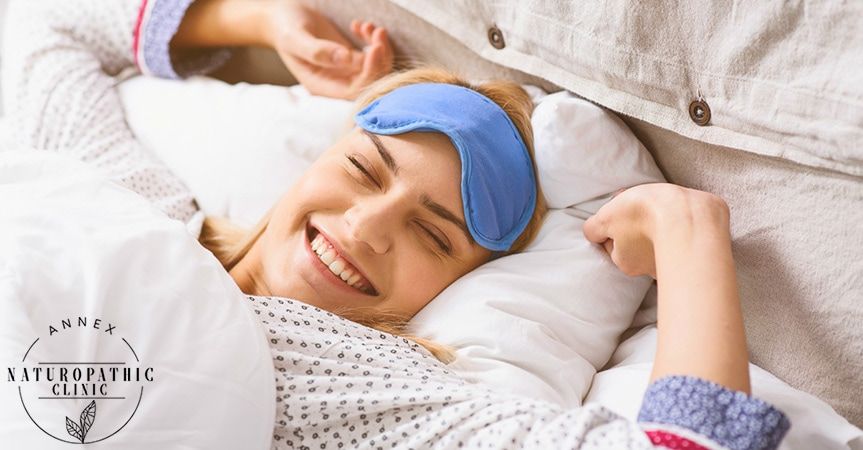 5. Maintain A Healthy Weight
Being overweight can affect sleep quality, as it increases the risk of sleep apnea.
Additionally, a 2010 study from the University of Chicago Medical Centre showed not getting enough sleep can reduce the benefits of dieting.
This can turn into a cycle - being overweight can affect sleep quality, and not getting enough sleep hinders the ability to lose weight.
6. Go To Sleep When You're Tired
Have you ever gone to bed at a specific time, because you thought you should?
Perhaps you've bought into the idea of "early to bed, early to rise, makes one healthy, wealthy, and wise"
And then laid there unable to actually fall asleep?
Staying in bed when you're not ready to sleep can just lead to frustration - take some time to read, or listen to some music to help yourself fully relax and go back to bed when you're ready.
7. Avoid Fluids For 2 Hours Before Bed
There's nothing worse than finally falling asleep, only to wake up needing to use the bathroom (okay, there are worse things, but this is pretty annoying).
Avoid fluid intake too close to bedtime, in order to avoid those late-night bathroom trips.
Most experts say it's best to avoid food or drink two or three hours before it's time to crawl under the covers.
8. Establish A Bedtime Routine
You probably had a bedtime routine as a kid.
Perhaps a light snack, followed by a bath, and then a story, or reading time.
Maintaining a bedtime routine as an adult can help signal to your body it's time to get ready for sleep.
Taking a bath or shower, reading a book, or doing relaxation exercises each night before bedtime can help you get in the right mindset for sleep.
9. Avoid Evening Meals
Eating in the evening can hinder your ability to fall asleep, and heavy meals which cause indigestion are even worse.
Keeping this in mind, eating certain carbohydrates can help boost the levels of tryptophan and serotonin, both of which are chemicals which can help promote sleep.
Tubers, wild rice, and fruit may help increase these chemicals and promote sleep.
10. Consider Herbal Sleep Aids
There are a number of supplements and sleep aids which can help promote relaxation which makes falling asleep easier.
Let's look at some of these.
Valerian Root
Valerian root is often used as a treatment for anxiety and depression.
Taking valerian root before bed has resulted in reported improvements of sleep quality.
A meta-analysis by Bent Et Al found that while studies were lacking in quality, valerian root shows strong promise for aiding in sleep issues.
It can come with side effects though, so it's a good idea to consult with a naturopathic doctor before beginning supplementation.
Melatonin
Melatonin is a hormone which is produced naturally by the body in the evening - it sends the signal to your body it's time to sleep.
Because it's tied to the time of day, melatonin supplements are often used in cases where the sleep cycle has been disrupted, for instance to combat jet lag.
Lavender
The lavender plant produces purple flowers with a very soothing scent, which many people believe can help to enhance sleep.
Some studies have shown smelling lavender oil for 30 minutes prior to bedtime can help to improve sleep quality.
Magnesium
The mineral magnesium is used in many processes which occur in the body, and is important for brain function and heart health.
It is also shown to have relaxing effects, and aids in regulating the production of melatonin and also increases levels of GABA which is a neurotransmitter with calming effects.
Other Herbs
Other herbal remedies which can help with sleep include:
● Passion flower
● Ginkgo biloba
● L-Theanine.
● Kava
Book An Appointment With Annex Naturopathic
Are you having difficulty sleeping?
Have you tried some of the suggestions above, but are still struggling to get enough shut-eye?
Annex Naturopathic can help.
Contact us today for a free consultation, and let us develop a plan to help get your sleep back on track.
Discover more info on health, wellness, naturopathy, and medicine at: naturopathic doctors in Toronto
---